I learned how to knit shortly after my 2nd son was born in 2005-- November, to be exact. My initial motivation was perhaps an unusual one; I fell in love with the idea of knit wool diaper soakers-- those little old-fashioned pants that mamas used over cloth diapers back before rubber or plastic or vinyl diapers were common.
From vintage patterns like this: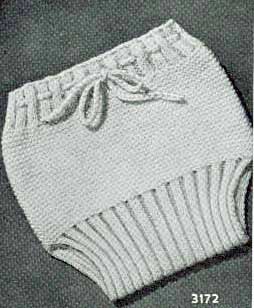 To modern versions like this:
I was hooked!
So one day I put the baby boy in his car seat & drove the mile or so to
Lamb's Ear Yarn
in Tacoma & inquired about learning how to knit! Roxie sold me my first skein of yarn, a variegated Encore acrylic & wool blend, and a set of bamboo straights in size 8. She sat me down with her then 17 yo son, Erol, and he taught me how to cast on and how to do a knit stitch. For the next week or so, until I was scheduled to go back in to learn the purl stitch, I knit, and knit, and ripped, and knit, and cursed, and knit until my shoulder ached. When I was finished with the skein, I had a very long garter stitch scarf... and I had cemented the knit stitch into my muscle memory.
Next, I knit a ribbed scarf with a skein of Noro Kureyon. Those two stitches-- knit & purl-- is all I have ever really learned from a person. Everything else I know, except for a few bits here and there shown to me by the ladies in my knitting group, I learned from the Internet or books. Within a year, I was able to knit a soaker for my baby, following the
Curly Purly Soaker Pattern
. Soon thereafter, though, I decided to write my own pattern, and the
Pea Patch Diaper Soaker
was born.
Since that time, I've found it more interesting & in some ways easier to make up my own patterns rather than follow those written by others. This is one reason that I prefer the top down, seamless method of knitting garments-- it is much more open to improvisation, as you can try on garments as you knit & make changes on the fly! There's a good reason why
Wendy Bernard
is my favorite designer and her book,
Custom Knits
, is my knitting Bible!
If you're trying to learn how to knit on your own, the videos available on
KnittingHelp.com
are utterly invaluable. Being able to stop & start them over & over
ad infinitum
without feeling stupid is one advantage to not learning from an actual person! And, of course,
Ravelry
is
the
place to go for patterns, yarn info, help forums, themed groups, kal's, and more inspiration than you'll probably ever need!
Below I've put together a short list of resources that have helped me with some specific techniques:
Truly, the best resource for learning to knit is you! Practice, practice, practice, and learn to fix your mistakes. When it comes right down to it, there are no short cuts; you really do...
just gotta keep knittin'!